CELEBRATE 50 YEARS OF THE SUEDE
This year, the PUMA Suede celebrates its fiftieth anniversary—a singular achievement in the sneaker world. As PUMA looks forward, we're inviting young artists thriving in their field to meet and celebrate the established artists they admire, paying respect to the idols who shaped their journey today. Face to face, they discuss Future History, their practise, and the ways in which they support one another.




ESSAY
Politics, Power, Rihanna: A Colourful History of the PUMA Suede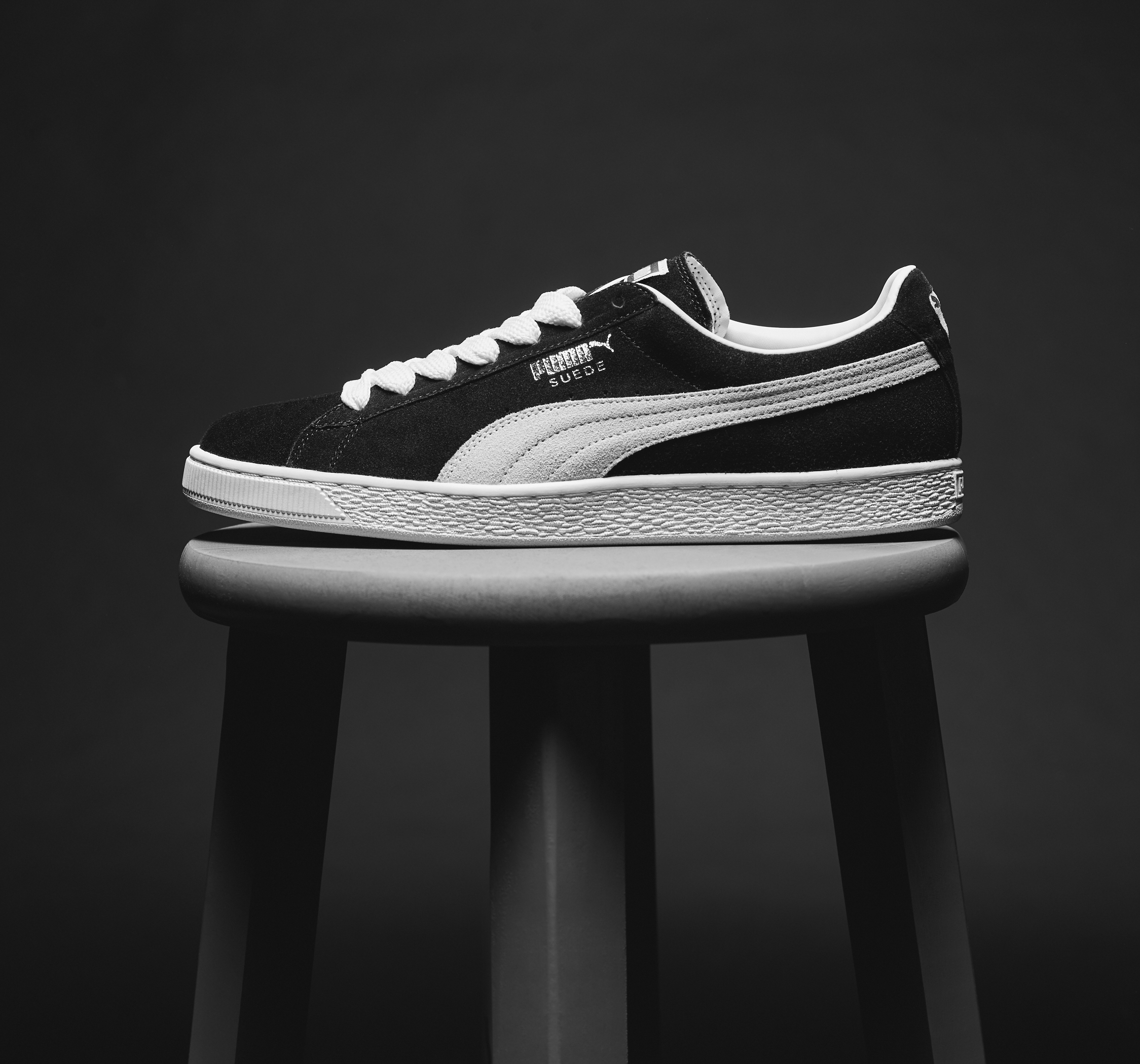 Tommie Smith with the PUMA Suede, 2018 | courtesy of PUMA
01. 1960s
In the 1960s there were just two choices for athletic shoe uppers: canvas or leather. Enter: the PUMA Suede. At the time, suede was considered a luxury fabric, usually reserved for evening wear and purses. Because it was harder to clean than leather, it seemed counter-intuitive to use on a shoe. Rudi Dassler thought otherwise. (In fact, it was the delicate nature suede that would later help bolster the shoe's cult status — ultra-clean Suedes became a point of pride for wearers).
That same year, at the Summer Olympics, Tommie Smith became the first person to run the 200 metre sprint in under 20 seconds — and he did it wearing PUMA Suedes. At the medal ceremony, Tommie approached the podium with bronze-medalist John Carlos. Both raised their right hands, in a what the athlete later described as "a human rights salute."

Walter 'Clyde' Frazier | courtesy of PUMA
02. 1970s
Walter 'Clyde' Frazier was more than the man of the hour, he was the don of a decade. Star Knicks player and two-time NBA champion, Frazier was a sort of proto-street style icon. His nickname, Clyde, came from the the wide-brim hats he'd often pair with turtlenecks and gold chains. Knicks teammates thought they made him look like bank robber Clyde Barrow, of Bonnie and Clyde infamy. PUMA picked up on his panache for dressing, and made a first of its kind offer: Clyde wouldn't just wear their sneaker on the court, he'd design his own. The basketballer liked the Suede silhouette, so he asked PUMA to make a version that was lighter and more flexible.
They delivered the PUMA Clyde, which the athlete made a point to wear off the court as often as he could, in an effort to establish his eponymous design as a style sneaker. By the end of the decade the Suede was a street staple — thanks, in large part, to Clyde.
NYC B-Boys | courtesy of PUMA
03. 1980s
By the 1980s, Clyde has retired, but the Suede had already found a new audience: breakdancers. B-Boys and B-Girls were drawn to the Suede's gum sole and roomy toe-box, which allowed them to dance on cardboard and concrete without slipping. Two of New York's most prolific crews — The NYC Breakers and Rock Steady Crew — were particularly fond of PUMA, wearing the panther logo from tip to toe.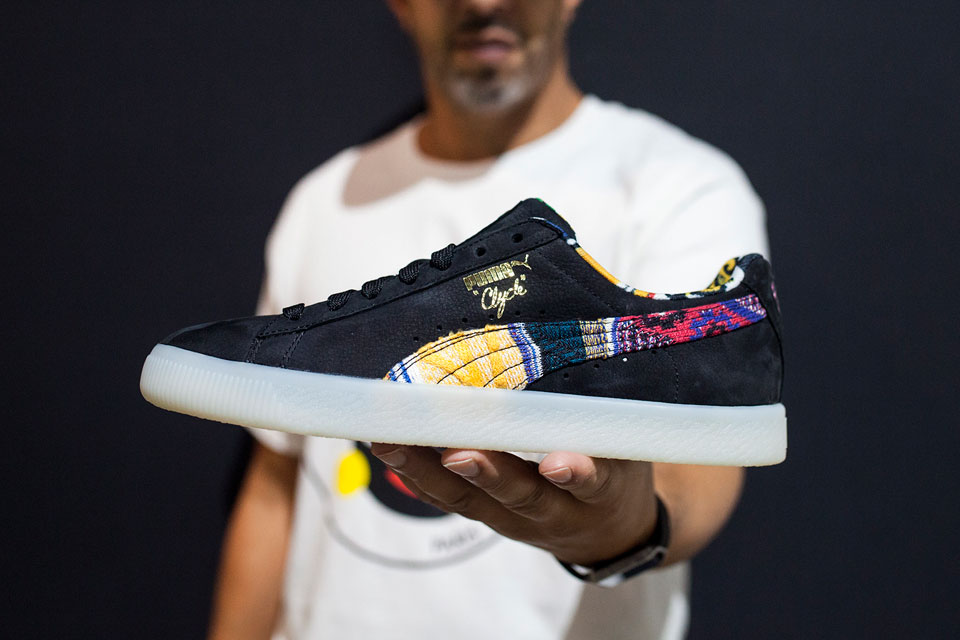 04. 1990s
Nineties brought the explosion of skateboarding. Guys like Tony Hawk and Jason Dill were the kings; skate videos and magazines were blowing up. Skateboard established itself as more than a sport: it became an industry. Because The Clyde was built for the basketball court, where slam dunks and sudden stops ran ragged on player's feet, it could take a thrashing — which is exactly what skaters did.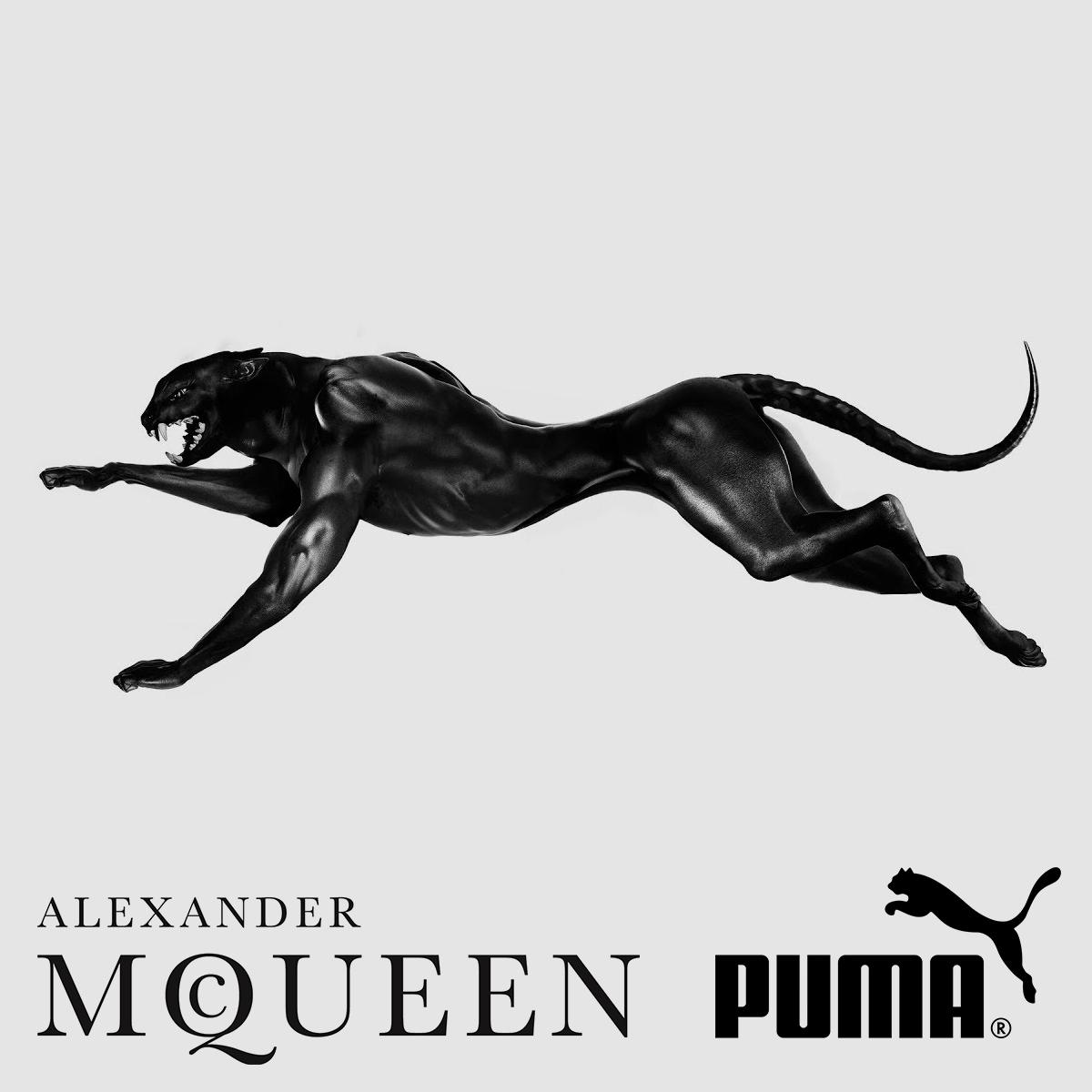 05. 2000s
By the turn of the millenium, the Suede was almost 40 years old: a proven classic, in sneaker years. To celebrate, PUMA commissioned over ten re-interpretations of the Suede, many by designers who were almost 20 years younger than the shoe itself. Alexander McQueen reinstated leather and added side laces into the design, while Frank Kozik swapped the classic suede upper for faded denim. The slew of collaborations through the decade saw the shoe accumulate one of the largest colourway libraries in footwear history.

Fenty x PUMA Suede first collection | via @badgalriri / Instagram
06. 2010s
In 2014 Adam Petrick, PUMA's global brand and marketing director, tapped Bad Gal RiRi to work on a new women's Suede. The Fenty Suede was initially released in three colourways: a triple white, triple black, and burgundy-green. The traditional gum sole was replaced by a creeper-style midsole with thick, ribbed laces on the upper. In September 2015, the first-ever Fenty x PUMA drop sold out in three hours. Later that year, the design was honoured with Footwear News' 'Shoe Of The Year'.
This year the Suede has rolled over the half century mark; a milestone celebrated with collections from Santa Cruz, XLarge, and Weekend XO. Later this year, Karl Lagerfeld will offer his take on the panther logo through a capsule collection.
VIDEO
The History of the Puma Suede: The Weekly Drop Icons
In 1968, Rudolf Dassler and his cohorts concocted a fairly simple idea; an athletic shoe that could be applied to any athletic situation. They weren't specifically for crossing up an opponent on the hardwood or showing them up on the track, but would eventually be applied to either scenario. It was a training shoe that broke the mold, so they called it the Crack.
The simple combination of a soft suede upper and molded rubber sole would undergo a few stylistic changes – and, thankfully, a name change – but has remained largely unaltered for 50 years while the world has continually changed around it.
When it was rebadged as the Clyde, it was the first ever signature sneaker in NBA history. On court alongside the adidas Pro Model and Converse Pro Leather, it was the revolutionary low-cut basketball shoe long before the Kobe 4. As a warmup shoe equally as effective on the track and the court, it was the cross-trainer decades before Bo Jackson picked up a football (and a baseball ... and a surfboard).
It has been remixed by Rihanna as the best-selling Fenty Creeper, and has been the canvas for collaborations with everyone from Jeff Staple to Karl Lagerfeld.
After 50 years in the game, the Suede has been a part of protest and progress, which might be why it's still as relevant as it ever was. Take a look a the full story in the video above, and keep an eye out for the Suede's 50 collaborations to mark the iconic sneaker's 50th anniversary.
VIDEO
The spectrum of soul with Billy Davis and Andrew De Silva
Although Melbourne producer Billy Davis is more than 10 years Andrew De Silva's junior, the pair share the same passion for R&B. We asked the pair to come together to represent two generations of Australian music, but this isn't the first time they've connected. Davis is a part of Melbourne's blossoming bedroom soul scene, and had the opportunity to play keys for De Silva's 90s R&B outfit CDB on their reunion tour. Since then, De Silva has acted as a mentor to Davis, sharing first-hand insights into the days of old soul; which Davis is infatuated by. While both occupy different places in the soul landscape, they share a deep love and passion for their craft.
Watch the video above to find out more about Billy Davis and Andrew De Silva, and how their kinship came to be.
Photography: Yasmin Suteja of Culture Machine
Photography Assistant: Declan May
Videography: Michael Danischewski & Tom Hitchcock
Styling: DOC G
Special thanks to: 170 Russell, Enjoy

VIDEO
Teeks and Hollie Smith reflect on the Power of Music and Discuss Future History
"Songwriting for me is my way of expressing myself, and I feel like music is my release or my output to put all my feelings or things that I experience… and compact it, put it into a song and let it go. It's a very cathartic thing for me." - Teeks
Since the release of his EP The Grapefruit Skies in June last year, Auckland-based, upper North Island-raised soul singer Teeks (Te Karehana Gardiner-Toi) has experienced a meteoric rise. November 2017 saw him take out the inaugural Best Māori Artist Award at the Vodafone New Zealand Music Awards. In the months since, he's wowed the summer festival circuit, performed acclaimed shows at the Auckland and Wellington Arts Festivals, toured through Australia and the UK, and knocked it out the ballpark at the 2018 APRA Silver Scroll Awards, performing a cover of Ria Hall's Maioha-winning song 'Te Ahi Kai Pō' with haka group Ngā Tūmanako. Along the way, he's spoken truth to power, advocating for te reo Māori language, and challenging colonialism and systematic oppression.
In this video, Teeks reflects on what singing and songwriting means to him, before sitting in conversation in the storied Auckland town hall with one of his heroes, Hollie Smith. As they share stories of inspiration, perseverance, and creativity, Teeks finds out he's influenced Hollie as well. Afterwards, he takes us to Te Noho Kotahitanga Wharenui to reflect on it's importance to his family and sense of identity, before heading to the beach to give us a sense of his thoughts on how far he has come, the losses that have tempered his wins, and the responsibility he feels to light the way for those who come after him.
"Funnily enough, when I heard your [EP] Grapefruit Skies, I was like, that's right, I can do this, it will be okay. It inspired me in the same way." - Hollie Smith
Photography: Snapper Online
Videography: Michael Danischewski
Styling: Imogen Wilson
2nd Cam: Taylor Mansfield
Special thanks to: Parachute Studios, Auckland Town Hall, Te Noho Kotahitanga Marae
We would like to acknowledge Lyonel Grant, the weavers, his support team and Te Noho Kotahitanga for allowing us to use images of the whare.
Originally published by sniffers.co.nz
INTERVIEW
Aki Yaguchi and Melissa Grisancich define future history
Melissa Grisancich, an Archibald finalist painter, has spent the last few months curating her all-female group show called Springtime. It's a brilliant Melbourne afternoon when she reveals the design of the show's poster to Aki Yaguchi; a fellow painter with a similarly delightful style, at an inner-city café where we've joined the pair. Aki's excitement bubbles over, and Mel says something about how long the design took her to hand-paint. Despite the difference in years (Mel is about nine years Aki's senior) conversation flows easily, bouncing between their latest art projects, expensive baby gifts for friends, and their anticipation for Springtime. They're intelligent but unpretentious, radiating mutual admiration.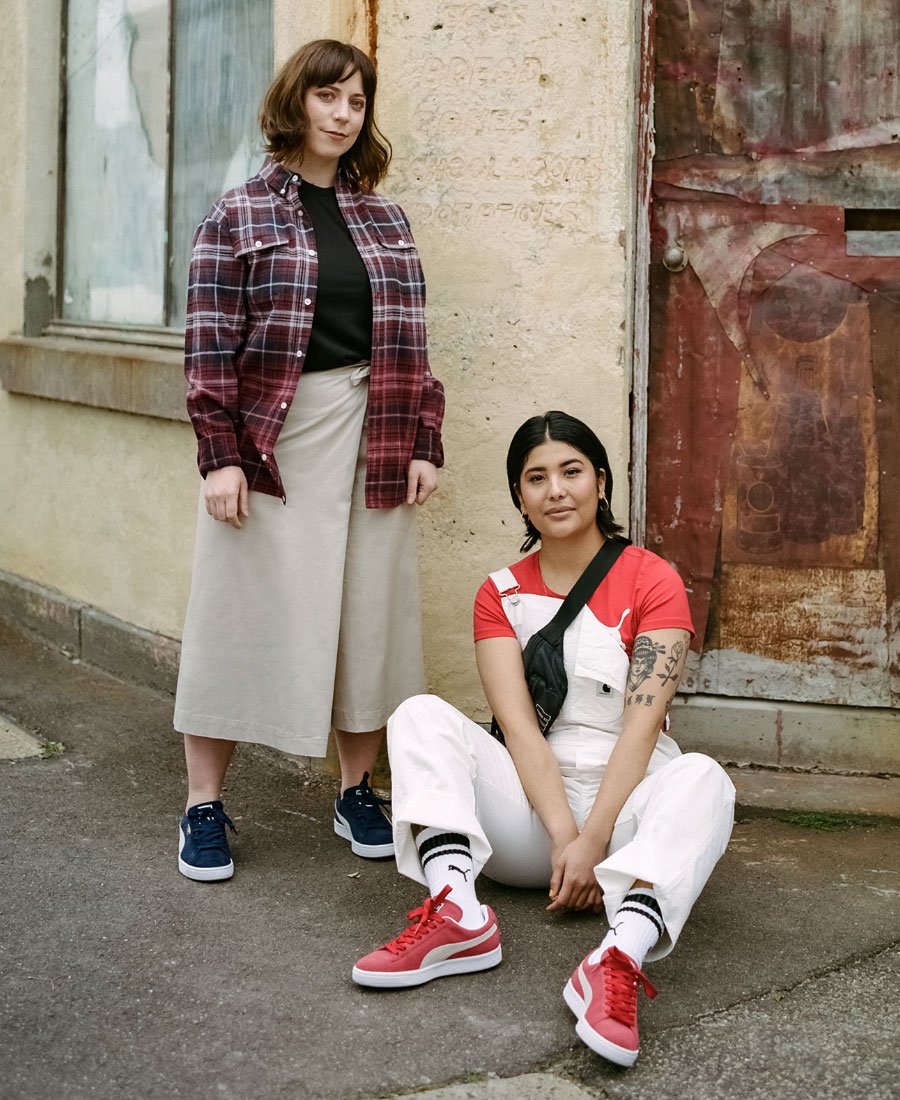 They're quite the dynamic pair, Aki and Mel. While their childhoods were different, their careers are unfolding at different intervals, and their work is inspired by different art-periods; their thinking intersects. Aki and Mel are two of the many the women re-shaping Melbourne's art scene: they're hyper-positive, deeply respectful, and unwaveringly supportive of each other and the artists in their field.
We sat down with the pair, who were equally as charged on caffeine, to talk growing up, the evolution of their art, the impact of social media, and how exciting the future is when treated with as much respect as the past and present.
Hello, we're so pleased to be chatting to you both; and to actually have you in the same room! Let's start by talking about where you're both making work from at the moment, and where you are creatively.
Mel: I'm now based in Sandringham, but I'm from Mount Martha on the Mornington Peninsula. I'm a painter and I also like making sculptures and sewing.
Aki: I'm Aki Yaguchi, and my middle name is Suzanne—which is super Western because I'm half Australian and half Japanese. I'm currently based in Melbourne, for now at least! I'm one of three children. My mother raised me as a single mum from when I was about ten. My art is poppy and colourful. I don't like to stick to one medium—I like to play around with different things like paint and illustration and big walls. I love knitting and crochet and textiles. Really, I just love whatever medium I can express my art through.
You've both touched on this, but I'd like to hear more about your childhoods. Where did you grow up? Do you have any fond memories connected to art?
Melissa: I started doing art-related things when I was really little, when my grandparents gave me those How-To books. Then that branched on to things like 'show and tell' at school, where you make something over the weekend to show your class on Monday. My Mum ran craft classes after school at our house too. I think I had trouble making friends when I was younger, my Mum set up the classes so I could meet people. We learnt how to do bread-dough decorations, we made things like bath salts and collage, and paper coiling. I found out I was really bad at maths in grade one or two, but art class was my happy place. I put everything into my art. I was really bad at sport, but my primary school billy cart tournament team let me be their designer.
Aki: I was born in Japan, but I grew up in Australia. My Mum and Dad raised me on the Gold Coast after we moved from Japan. I discovered that I loved drawing and illustrating through my father, who was an incredible illustrator. He also used to do sculpture work, he would make such incredible things from his hands. It inspired me so much when I was little. I really wanted to do that. Because I'm the oldest, my sister and brother were too young to play with me when I was younger, at that point drawing was a way for me to create my own world. I'd draw a castle with princesses and, from that scene, I would imagine stuff for hours. It definitely still works today as my escape, the same way I did when I was little.
Melissa: That's exactly what I do as well.
Was there a point in either of your former years that made you realise that pursuing art was what you needed to do?
Melissa: When you go through high school, they really pressure you to know what kind of career you want to have. I did music, art, and studio arts—which is film photography. I kept gravitating towards more creative subjects. I said when I was seven years old that I wanted to be an artist when I grew up. I don't think I knew what that meant when I was leaving school. I went to TAFE and uni did all of that, initially wanting to be a high school teacher. I did my Diploma of Education, I think because my parents were asking me how I was going to earn money. When I finished, I realised that I actually can't deal with teenagers. I don't think I'm gonna teach, ever. Those things definitely made me realise I should stick to art.
Aki: I think I knew I really wanted to pursue art from a young age. I loved magazines and things I could hold. I would always be looking in them, fawning over pictures that artists had done. I realised that people were living their life by creating images, travelling with it, making their income that way. I thought that was just a fantasy way to live, the dream basically. It wasn't an unachievable idea for me. My mum was never really like 'you need to get a stable, high-paying job and pay a mortgage.' She was happy for me to follow my dream, I think she saw how happy it made me. I think she doesn't want to make [my siblings and I] ever feel like we're defined by our jobs.
Do you find your relationship with your art evolving or changing?
Melissa: It changes all the time for me. I go through phases where I don't really know what I'm doing or why I'm doing it. Being in Melbourne, it's hard not to compare yourself to other artists doing really well. That way of thinking can sometimes make me want to stop doing it and focus on other things, like working or sewing. So actually, you know what, I can't even take a day off. I'm always doing something. I do think social media changes my art here and there. I've been managing the RVCA gallery in Collingwood for six years now and that has definitely shifted my view on art. I'm constantly thinking about this stuff all the time, but I'm at a good place now. The best way to ground yourself is to go to galleries and look at the actual work. It's good to remember it's not a race.
Aki: I'm the same. The rise in social has ruined the way we look at production. Because we see the work that other people are doing it becomes a constant comparison. It seems like everyone else is doing shit. Before social media became a thing, I think [creativity] was a much more carefree thing. I feel like I didn't have such a negative relationship with creation like I do now.
Melissa: I was more motivated to create work before social media (laughs). How bad is that! I feel like no-one talks about it though—I know I haven't until now.
Aki: I feel like no-one is going to tell you online that they're feeling that way. No-one is going to bare their soul that way.
I definitely agree. Social media feels so strategised, there's no room for the process or the 'shit part of creativity'. In saying that, where do you love to create the most?
Melissa: Mine is the dining table in front of the TV. I have a studio and all the beautiful space I could possibly need in Sandringham but, for some reason, the dining table is my spot. I mean, the record player is in that room at the moment so that makes sense. It's close to the snack area, it's got noise. When my boyfriend comes home he's happy to chill and chat while I work. He actually made our dining table!
Aki: That's so cool! I actually relate to that. It's a comfort thing. Nush, my boyfriend, bought me a desk. He facilitated my creativity through it. He would say, 'You can create on this! Go wild! I want to see you do stuff!' But I still work on the floor. I don't know why but I feel like, to me, the desk is too structured. Each time I sit down at it, its like 'You have to work! It's working time!' and it freaks me out a little bit.
Melissa: I think that's why I don't go near my desk.
Aki: It definitely feels like you're clocking on.
Melissa: I painted the Archibald painting in the lounge room. It had a nice window with all the natural light. I didn't even go into my studio once, something about the energy in that room was good. No one was allowed to look at that painting until it was finished. It literally faced the corner of the room until I was ready.
Aki: It is a really beautiful painting. Can I just add a side-note? Nush, if you're reading this, I love my desk!
Melissa: Yeah, my boyfriend made my desk that I don't even use! (Laughs) Sorry!
Ha! Ok, I'm dying to know—how did you first meet? What do you appreciate the most about each other's work?
Aki: Mel, I haven't told you this before but, our mutual friend, Tyson actually told me about you. He said 'Mel is such an amazing artist, you'll really dig her work!' And I'm so glad I looked it up. It's actually incredible that I've met you.
Melissa: He messaged me when he saw a photo of us together and was like 'I'm so glad you guys got to meet!' I think we [first] met at RVCA briefly—I've met some really incredible people through the gallery. Just from being at openings. I think I saw your artwork in a video someone posted of you painting your girls's heads on a wall somewhere. It's just nice that you have your own thing going on. A lot of people do and a lot of people don't, and it's really cool that you have it from such a young age.
Aki: To be fair, I think I probably properly met you at Mike's Pho Night.
Melissa: Yeah, we had soup! It was just nice to just talk shit with someone, rather than try and think of impressive things to say.
Aki: Having to try and impress people sucks. It really does.
I feel that. Aki, what've you learned from Mel?
Aki: This is hard. The things I knew about Mel before I met her were based on things I'd seen online. Which is actually really funny because we talked about it so negatively before. But from what I did see, Mel was hustling. She was constantly creating. Whether it was your beautiful resin hands or your paintings. You seemed to have a drive and passion. Not only is your work incredible. There's drive there and motive. There's intention behind it. Anyway, I digress! Since meeting her, I've learnt that it's important to be genuine as both a person and in your art. Putting a personality to Mel's work has made me realise that it's ok to be yourself. You can still create incredible work—it's not about the front you put on. It's about your work.
Melissa: I think that when you're young and starting out with social media, I think it's important that you realise that it's about your work. It's not about your online presence. If it is genuinely about your work, then what matters is that you remain true to it. And I think that goes with anything creative.
Aki: It's not to please other people. If you're doing it for you, then it will be an emotional release for you. It will be fulfilling.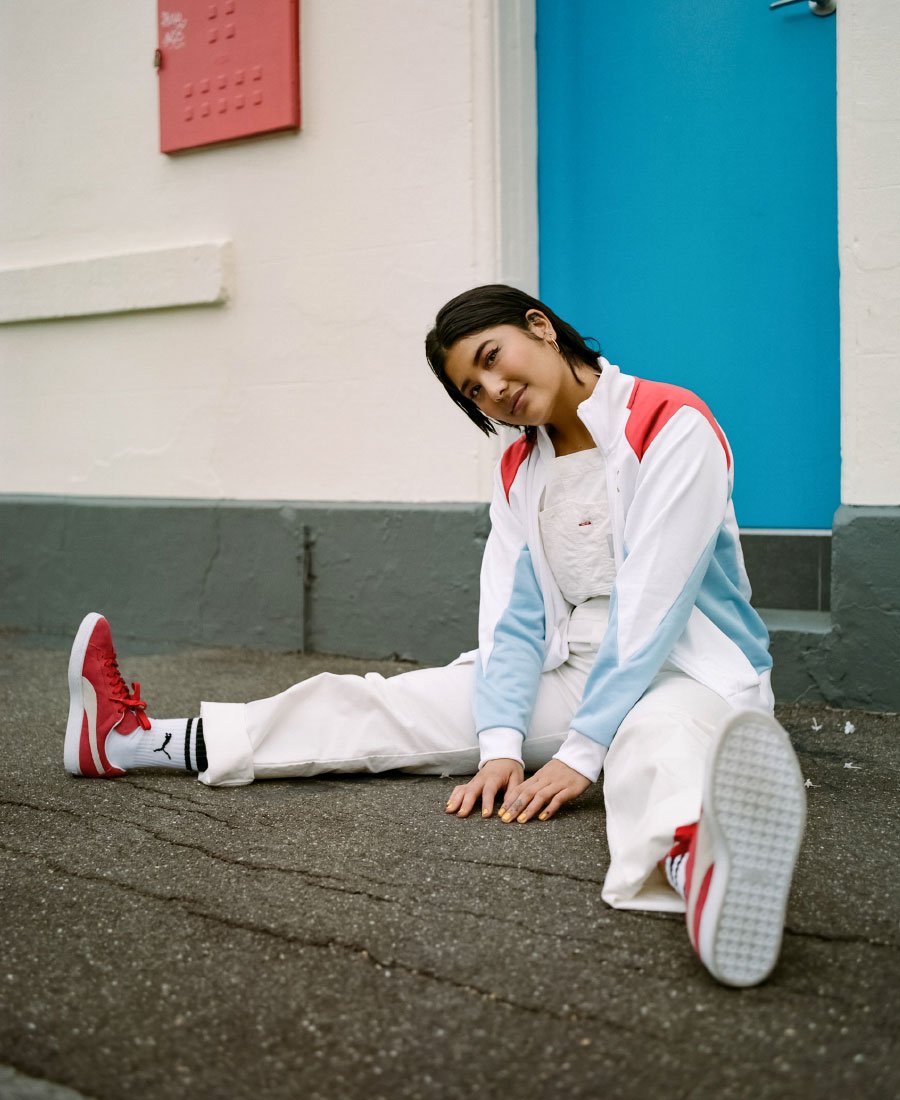 Mel, how has the art scene changed since you first started in it?
Melissa: The art scene has changed for the better for women. There's more awareness that we need more opportunities, more walls for us. I think there's definitely more noise in that sense. Back then I didn't really have any friends in the art scene. I was sort of doing things on my own and booking shows on my own. Over time, you start to hold a more positive view once you find more like-minded people. In that sense, social media has changed things for the better. People are coming to shows more and picking up a zine more often.
Aki: It definitely broadens your audience.
Melissa: I love the internet for promoting exhibitions and for group-shows.
Do you think it's a good space for emerging artists, like Aki, to come into?
Melissa: Definitely! I don't think there's a wrong time or a bad time for it. But I definitely think that the art scene is in a good place. People are a bit more welcoming to different types of art. I guess there's so much focus now on the female art scene. I just want girls to be reminded to look after each other. That's something that I notice and it's why I created Springtime, the all-women show. Aki's invited! It's my view on how I want the art scene to be. It's a mixture of emerging, first-timers, well-established artists, mediums… It's more a welcoming space rather than you have to be at a certain level to show your work.
Aki, what do you think is in your future? Where would you like to be in 5 years?
Aki: My clear view is that I'd like to be travelling and making social difference with my art. I feel like there's a greater purpose for the things that we do. I watched this really cool video recently from the artists of Pow Wow. They went to Nepal and they painted this tiny school—it enriched the lives of these kids. I saw it as something that I could do. I'd like to think that I can utilise the things that I love to do, to help inspire different groups of people.
What a positive goal! Mel, where do you see Aki in 5 years?
Melissa: I mean she definitely has to travel during this time. I can see her doing more walls and shows and art. You're (Aki) only 23—this is your growing time. These next 5 years will definitely be your growing points. Saturn returns will hit you! (laughs) The fact that you paint walls means you'll get some amazing opportunities in Australia.
Do you believe that it's important to respect the past and the artists that have come before you in order to create work that looks to the future and reaches out to the generations to come?
Aki: I think it's important to respect everyone—past, present, and future. Of course you want to pay homage to people that inspire you.
Melissa: I would say the same. I think when I make my work, I'm not thinking about that. I'm inspired by a lot of traditional work. In terms of respect, I don't try to replicate it or reference it. I'm really influenced by Alex Katz and Henry Rousseau, but I've got my own thing going on.
Aki: And it's even important to respect the kids that you meet. I've met a few that are just realising that they love art. It's easy for people to fob you off, and I've had that happen to me before. It's so much more enriching to support each other.
Photography: Yasmin Suteja of Culture Machine
Photography Assistant: Declan May
Styling: DOC G
Hair & Make-Up: Laura Du Vè of BE. ONE CREATIVE
ESSAY
B-Boys to Rihanna: PUMA's Long History In Hip-Hop
With hip-hop infiltrating the fashion space faster than ever, PUMA and its iconic formstripe have been bridging the gap for decades.
In fact, much of the current streetwear and sportswear landscape can be traced back to PUMA, with the German giant finding great success in hip-hop pockets across the globe. But to truly understand how PUMA became a foundational brand for hip-hop, we first have to head back to the brand's game-changing move in 1973. Back then, they became the first brand to have a basketball player design a shoe. The man in question was Walt 'Clyde' Frazier, who was known for his incredible ball abilities for the New York Knicks, as well as his brazen off-court looks comprised of glistening chains and extravagant capes. At the time, PUMA approached Frazier and offered to pay him to wear their 'Basket' sneaker. But its leather construction was too stiff for Frazier, who wanted to help the brand design a new shoe. The relatively new PUMA Suede was a more opt choice for Frazier, who then "told them to make it lighter and more flexible." Thus, the Clyde sneaker was born and became a runaway success, changing the nature of brand endorsements, co-signs and collaborations forever. Easy as that!
As Frazier headed to retirement in 1980, he noted in an interview with GQ that breakdancers were beginning to pick up the PUMA Clyde as their shoe of choice. Just as Frazier opted for Suede sneakers to maximise on-court comfort, breakdancers also preferred PUMA over competitor brands, who largely made shoes out of rigid leather or canvas. With a more flexible upper, the PUMA Suede became the b-boys' footwear of choice, favoured by trailblazing cliques like Rock Steady Crew. In the Just For Kicks documentary, member Doze Green says PUMA were his favourite shoes for breakdancing because "they were suede, they were form-fitting, and they had a little arch but they were flat. For me, that was the best sneaker." In 1984, Rock Steady Crew (alongside hip-hop pioneers like DJ Kool Herc and Doug E. Fresh) featured in the film Beat Street, which thrust New York's b-boy scene onto the big screen and into international attention. PUMA Suedes featured prominently on the feet of characters in the film, again exposing the shoe to a new audience. According to Complex, the film is credited with kickstarting b-boy culture in Germany.
Throughout those early years, PUMA sneakers were also worn with fat laces, becoming part of the staple b-boy look. It started off as a DIY customisation trend, with wearers stretching, ironing and starching their shoelaces to make them wider. For those who couldn't afford new shoes on a regular basis, modifying the laces was an easy way of giving their sneakers new life, while dying them in different shades allowed you to colour co-ordinate outfits with great detail. Eventually, laces were sold in all widths and colours. This trend was honoured by PUMA themselves, who released a 'Fat Lace' Suede sneaker in 2009, where the Formstripe was modified cleverly to resemble a shoelace.
PUMA's role as a hip-hop go-to was furthered by artists like MC Shan, who put a PUMA tracksuit and bucket hat on the cover of his 1987 album Down By Law, with a PUMA Suede sitting subtly in the corner of the artwork. In 2007, MC Shan would collaborate with PUMA on his own Suede sneakers inspired by his track 'The Bridge,' while the apparel featured on the Down By Law artwork would also be re-released, much to the delight of OG collectors. Beastie Boys also wore PUMA Suede sneakers on the cover of their Solid Gold Hits compilation, with matching tracksuits to boot. Other rap legends like Ice Cube rapped about "Bailin' through your hood in my fresh suedePUMA's" on his own track 'You Don't Wanna Fuck Wit These,' and referenced the same shoe on Westside Connection's '3 Time Felons.' Ras Kass perhaps put it best on 'It Is What It Is' when he says, "Back in the days, all a n***a needed was suede PUMAS and a beeper."
Today, PUMA continues to celebrate its role in hip-hop's foundational years. In 2018, the brand has already released collaborations with New York legends like Bobbito Garcia, while a '50 Breakdance Cities Pack' of Suede sneakers references the brand's b-boy roots in New York, Berlin, Paris and Seoul - acknowledging that hip-hop has now grown to become a truly global language. PUMA has also tapped some of today's biggest rappers to look back on their history, like recent ambassadors Rae Sremmurd. They participated in a throwback campaign for the brand where they donned PUMA Suedes, bucket hats and boomboxes, taking Slim Jxmmi and Swae Lee back to an era where they weren't even born yet. The photographer behind the lens was Jamel Shabazz, who documented thePUMA Suede's initial rise in the 80s with his street snaps of New York City life, making this an inter-generational collaboration stretching across PUMA's legacy.
And of course, when something like the PUMA Suede has so much rich history, it's always a risk to tamper with it, but that's exactly what Rihanna did in 2015. Having sprawled her music career across hip-hop, pop, R&B, electronica and dancehall with stunning success, it seemed like only a matter of time before Rihanna took on the fashion world with an equally wide approach. The Barbadian star announced her partnership with PUMA in late 2014, and a few months after, images began circulating of her Creeper - a new take on the PUMA Suede with an elevated midsole. The shoe was an immediate sell-out and spawned various remixes, with Rihanna also becoming the first woman to take home the 'Shoe of the Year' award from Footwear News in 2016.
Billy Walsh of Mr. Completely was one of the people involved in the Creeper's design process, and says that the shoe's success is all to do with timing. "This is when the culture is combining. Like the ASAP kids, all that stuff. All the fashion kids of hip-hop were basically mashing up with this old British punk thing," he said to Vanity Fair. And just as PUMA holds significant weight in hip-hop's old school camps, Rihanna has proven that the brand can also evolve and excel in a contemporary setting while staying true to its DNA.
Aside from Rihanna, other hip-hop contemporaries are also carrying the PUMA legacy into different territories. Big Sean has put his spin on the Clyde, with an expansive range of apparel to match. The Weeknd has also dropped clothes and kicks in collaboration with PUMA, and his latest work - an all black sneaker dubbed the 'Terrain' - has just been revealed to the world.
With so many trajectories, it's clear that PUMA's role in hip-hop will continue to morph with the times. Some will be still be scrubbing their Suedes with a toothbrush and throwing in fat laces, and ensuring that each pair has a tracksuit to match. Others will feel like they're standing on top of the world in their Rihanna Creepers, with the sole giving them a sizeable height boost. So what's next? Only time will tell where PUMA leaps from here.
Words by Christopher Kevin Au
Art by Naik2g
Originally published by sniffers.co.nz
VIDEO
Two decades of Australian RnB with Kaiit and MoMO
Twenty-year-old singer-songwriter Kaiit is shaking up soul. For the uninitiated, 'OG Luv Kush p.2' and '2000 n SOMETHIN' are must-hear tracks, typifying the timeless sound that earned her a co-sign from Jill Scott (likening Kaitt to her love child with Erykah Badu). MoMO is a producer, writer, community leader, and one half of seminal Australian hip-hop group Diafrix. He's also Kaiit's manager, and while he might have made his name a decade before his protégé, they couldn't be more aligned. Or, as Kaiit puts it, "Mo just sees the vision."
We visited Kaiit's home to talks through her songwriting process and the importance of nature, and caught MoMO in the studio to hear about his own musical beginnings.
Photography: Yasmin Suteja of Culture Machine
Photography Assistant: Declan May
Videography: Michael Danischewski & Tom Hitchcock
Styling: Grace Dlabik of BE. ONE CREATIVE
Hair & Make-Up: Rosie Kilvert of BE. ONE CREATIVE
Special thanks to: The Corner Hotel
INTERVIEW
A Family Affair: The Katayanagi Twins and DJ Chukkee in conversation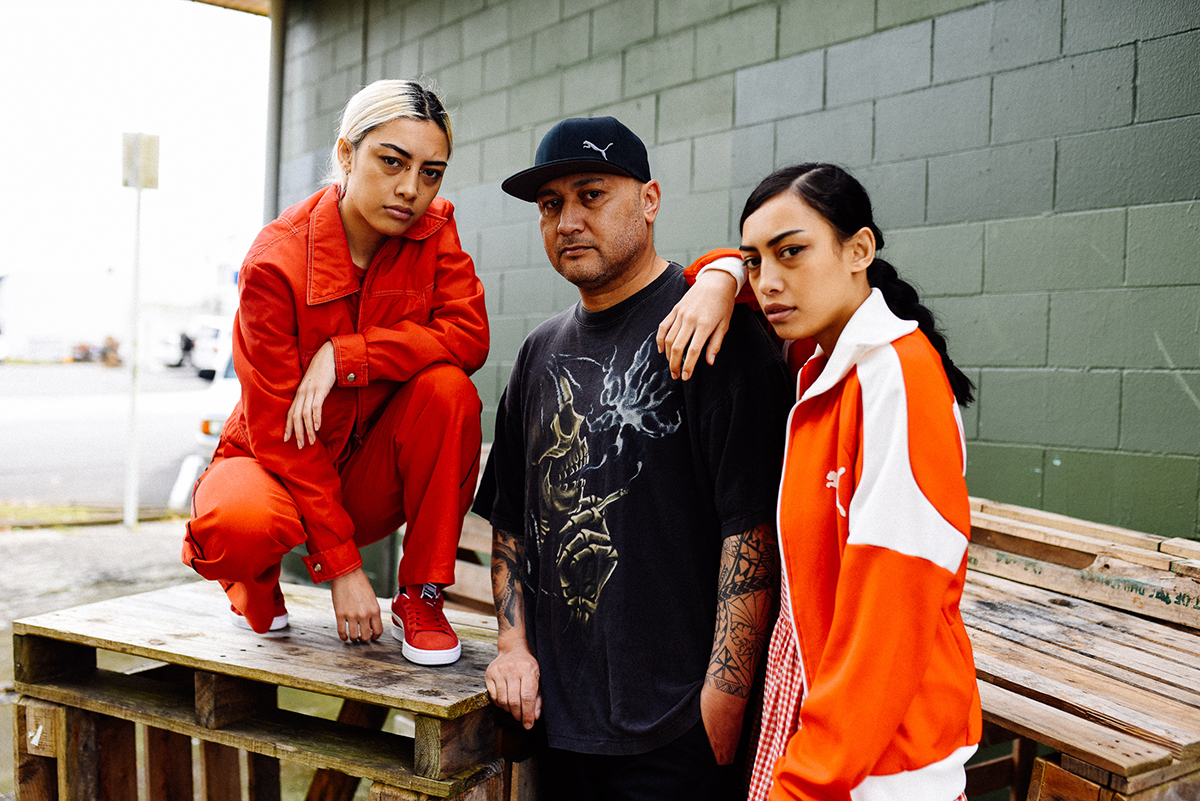 Born in Grey Lynn, but raised in Avondale, DJ Chukkee has been taking care of business in bars and function houses around Auckland for over two decades. Chukkee was introduced to music by his Tongan father and Samoan mother. He's passed on that same love to his daughters, China and Rain, but as well, he also inspired them to start DJing as The Katayanagi Twins and taught them the fundamentals that underscore their rock-solid nightclub DJ sets. Although these days, like his daughters, he's a dependable party-rocker, Chukkee cut his DJ teeth as a turntablist and spent several years competing in national and trans-Tasman DJ competitions in the early 2000s. Battle DJing got his name known and paved the way for the bookings to come.
Club DJs with turntablist fundamentals, China and Rain also work as models. Between their adventurous and uncompromising sets, attitudes, and looks have built strong Instagram followings. Collectively, they've been leveraging this into DJing and modelling bookings in New Zealand and Australia, while cliquing up with a who's who of contemporary fashion brands, DJs, rappers and producers. Having opened for Lil Xan earlier in the year, they're scheduled to appear at Northern Bass over the NYE period and FOMO by Night at the start of 2019, with a trip to Japan to the schedule before the year is out.
In the middle of a hectic week, we sat down with Chukkee, China and Rain after a photo shoot to talk their introductions to music and DJing, how they approach what they do, and what's next for them.
Could you talk about how you were introduced to DJing?
DJ Chukkee: I grew up in the eighties, where I got introduced to a lot of classic rock and pop. Eventually, when we hit the 90s, I got my head around rap and hip-hop, which is what really got me into DJing. It eventuated from there, and I got into gigging. I started off in the bedroom, and from there went to bars, weddings, and corporate gigs. Every year I do the Auckland Warriors fitness party.
The twins started hitting me up about DJing when they were about twelve, but they've really gotten it happening over the last four years. Once we started revisiting it all and practising, things moved quickly. Their catalogue of music is amazing. They know a lot more than I would expect from them. Their old-school music is quite vast, going back to the sixties, but they're also super up on all the new Soundcloud artists. They drop a lot of new songs and actually break them in the clubs here. Most people are too scared to do that because you can easily just clear the dancefloor.
Every time we get together, we're always all on our laptops, sharing music and getting an idea of what's new, and what we're all into. We don't stick to one genre; it's good to keep an open mind with music.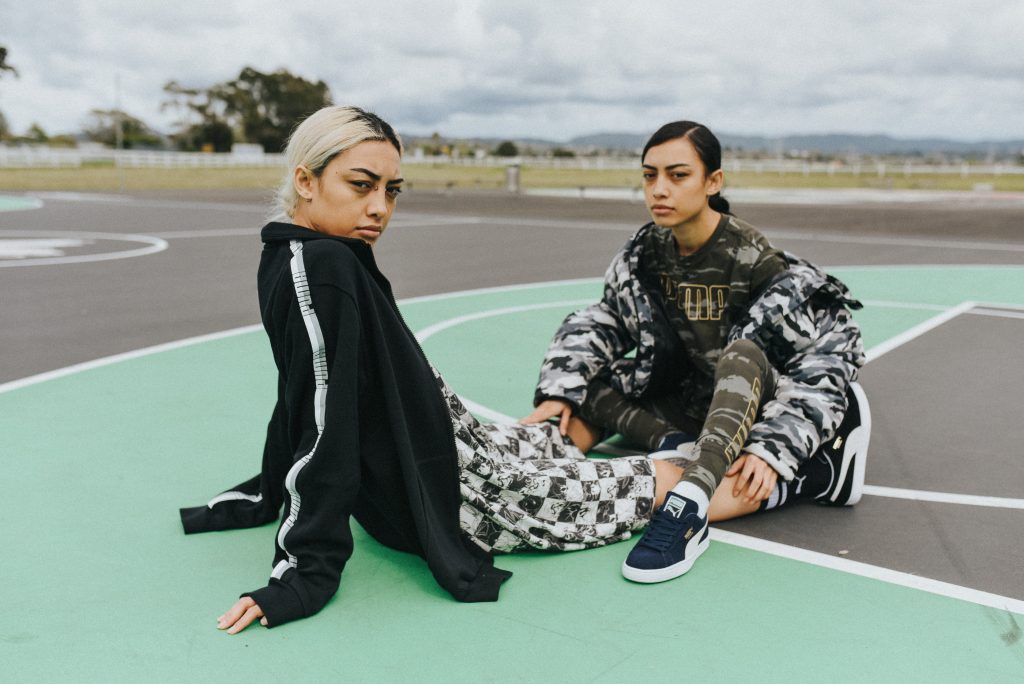 China and Rain, can you explain what it was like for you two when you got your head around what dad did and that you'd like to do it as well?
The Katayanagi Twins: It just looked so fun. He would be in his room all the time, every day. We'd wake up, and we could hear the speakers going off crazy. We didn't realise that he was DJing at; first, we just thought it was an everyday thing people did. It just seemed normal to us. I think we understood it properly when we started seeing him DJing in bars and at shows. Seeing him play to people changed it for us. We realised it can be an actual job. I think this was just before we turned 18.
We were always listening to all kinds of music, but we had a real passion for underground Soundcloud music. This was in 2015/2016. We were into artists like Xavier Wulf, Bones, $uicideboy$. We weren't hearing that sort of music in the clubs then, but it had this really cool vibe. We liked the sound of it, so we thought we'd play it to people. We wanted to educate the crowd with our music taste. Lately, Rain's been playing a lot of old-school, 90s RnB and stuff. Jodeci, etc. We've also been playing a lot of Travis Scott. Astroworld!
DJ Chukkee: The girls decided that they wanted to DJ professionally about 2-3 years ago. I put a video of Rain mixing in the DJ room up on facebook. She was just doing back to back DJ tricks. After I posted it, one of my DJ friends Atrapp sent me a private message asking who she was. I told him she was my daughter, and he asked to book her to DJ at Roxy. I asked her, and she was keen. He came over to see Rain play before he locked her in for the gig, looked at China and said, "oh my god, they're twins!" I said, "Yeah, they're twins and they both DJ." After I saw them play, he said, dude, we're booking them to play this Saturday at Roxy, and that was their first ever gig.
The Katayanagi Twins: 50% of our set was Soundcloud artists. That set it off. No one in our generation was playing that music in the clubs. We were playing with Katana and Atrapp around places like Roxy, 1885, Impala. Then we started playing other places around Auckland and out of town. We play whatever we want. If a promoter or club gives us musical direction, we don't really listen to them. We literally play what we want, because you should be booking us because of what we play. We just go out on a limb and put it all on the line. It always works out. We stick with the music producer and DJ scene, but we play different music. Most of those guys are trap house or EDM DJs. This year we opened for Lil Xan, which was our first really big show. Our favourite gig so far was going down to Christchurch to play at Bassment. That was dope.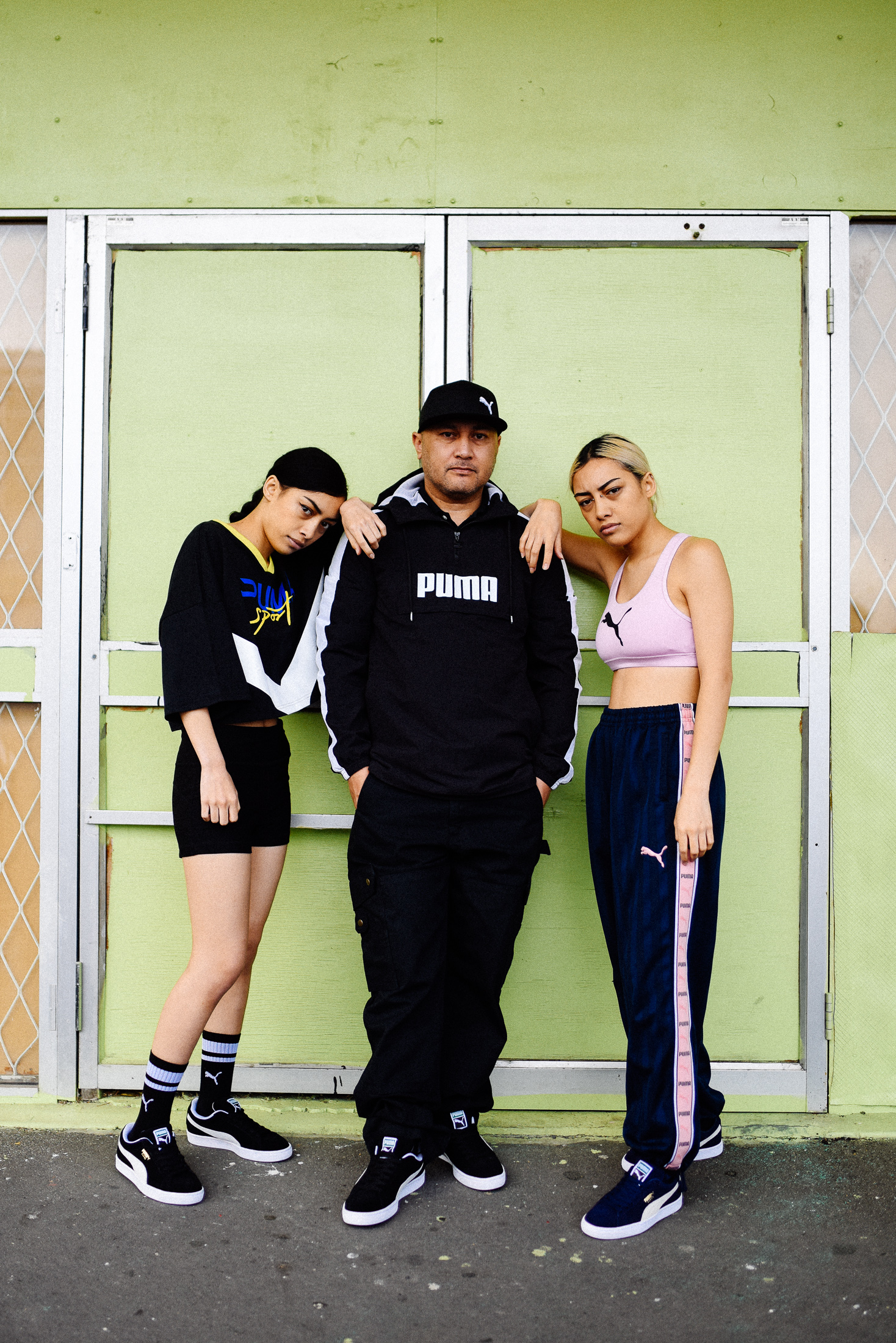 What do you want to do with music in the future?
The Katayanagi Twins: We're just working on our DJing right now. Once we've grown our name, we'll probably start producing in the future. Our sound is so different, so it's hard to know what our production would sound like. It would probably always change. We wouldn't be stuck to one genre; we'd try to stay ahead of the times. We work a lot in the fashion world, and it works together really well with doing music. We're just planning to do what we do now but on a bigger scale. We're going to keep growing.
DJ Chukkee: It got a bit difficult for a bit when people figured out they were my daughter. Some people were saying they were only getting gigs because I'd hooked them up. When people saw them DJing in the club, using turntables and mixing, they shut up though. My girls have worked very hard to get where they are at with their modelling and DJing. They do everything on their own, and there is a lot of support around them. On top of that, they have a great agent who looks after them really well.
If you look at where your daughters are at now as DJs, how does it contrast with where you were at when you were their age?
DJ Chukkee: Oh man, they've leapfrogged maybe twenty years. Their skill level is great. I've always been really hard on them about keeping on top of their music, style, and practising regularly. When they do a gig, they get it done. They're doing more than I could have done. I think the girls have broken the glass ceiling. As long as they put the time in, whatever they do will get bigger and better. They're running around doing photo shoots and gigs; it's been a big year. As a father, I'm real proud. The girls are killing it in what used to be a guy's world. In the 90s and early 2000s, female DJs were unheard of in the hip-hop world. Now we've got two twins in the Southern Hemisphere doing super well, and they've got their feet on the ground. It's in their D.N.A. They've got their own personal goals and styles as well. We're all looking forward to the future.
Article by Dan Woolston
Images by Snapper Online
Styling by Imogen Wilson
Originally published by sniffers.co.nz
INTERVIEW
The co-sign still matters: P-Money and Montell2099 define future history
For close to two decades, Pete Wadams bka P-Money has been one of the most significant figures within New Zealand's music production and DJing scenes. In that time, he's gone from a turntablism obsessed teen who beat out the odds to achieve third place at the DMC World DJ Championship in 2001, to co-writing and producing some of the biggest New Zealand hits of the 2000s with Scribe, Akon, and Vince Harder. Along the way, he's assisted with the careers of several generations of New Zealand hip-hop, RnB, and pop artists, produced for a bevy of US rap big names and even turned his hand to dance music at points. Most recently, he produced and co-wrote the recent worldwide chart hit 'Call On Me' by Australian singer/songwriter Starley.
Montell2099 grew up listening to P-Money and drew inspiration from his sounds and success when he started producing at age 12 in the tiny rural town of Katikati, just out of Tauranga. After high school, he moved to Auckland to study at MAINZ and quickly became immersed within a new generation of beats and trap-oriented electronic music producers and DJs. Online, he found his feet, and fanbase on Soundcloud and upload by upload caught the attention of the likes of Mr. Carmack, Sango and the extended Soulection crew. Remixes for the likes of Lorde, Diplo, and Leisure followed, as did initial opportunities to perform overseas through Red Bull Sound Select and the chance to record with 21 Savage. This year, he's been busy performing across Australia and the US and working in the studio with the likes of UZ, Alison Wonderland, and What So Not.
Post photoshoot, we sat down with Montell and Pete to talk about their introductions to production, navigating the come up, their first experiences in the US, and what might come next for the internet producer generation.
Pete, Montell, take it away.
Montell2099: These days, some little 12-year-old kid can just find a cracked copy of FL Studio and start producing. Pete, what was it like when you started out?
P-Money: The first things I did were with a cassette tape deck. It was about using whatever equipment you had. I could hear that the music was looping, and I'd read something in a magazine. I would do things like find a drum part on a song, record it, pause it, rewind, play that shit back, and try to get my timing just right. I was probably looping up Boyz II Men singles [laughs]. When I was 16, I got a Bose DR-660 drum machine, which was affordable at the time. I begged my old man to get it for me. He gave me some chores to do, and when Christmas rolled around, I got the drum machine, and I was off.
What came after the drum machine?
P-Money: The four-track came later. All of this was incremental. I guess at 12 or 13, I had the interest and the curiosity to make music, but I didn't have the tools. It wasn't until I was 17 or 18 that I had a small home studio. A four-track is like if Logic or Pro-Tools only had four tracks on it. Instead of on a computer, it's a tape deck, with four actual faders. You could only record four-tracks on it, drums, some samples, a bassline, scratches. I left school, got a job, and bought one of those. That was in 1996.
Montell2099: That's crazy.
P-Money: Nothing came fast, everything was a year or two in between.
Montell2099: My grandfather introduced me to FL Studio. Then, I watched music tutorials on Youtube for three years. I was isolated growing up in Katikati, but there was no one to catch up to anyone. No one was making music like I was there. I probably wouldn't have made music if we didn't have the internet at home. I always showed an interest in music, but it wasn't like I wanted to be a music producer. Pops showed me FL, and it happened by accident.
Montell, what was it like when you got started?
Montell2099: I feel like, for the first five years, my beats were trash [laughs]. As soon as I moved up to Auckland, I started improving really fast. In college I was mainly into my rugby and music was a hobby. When I finished school and moved to Auckland, I stopped playing rugby and music was the only thing I was doing. I was going to school at MAINZ every day, and I put all my energy into music. The people around me were the same. They were all showing me new music and different techniques. It was like that. I think it was cause I was around it so much.
P-Money: In your community and group of friends, is there a lot of sharing knowledge around how to do stuff?
Montell2099: Heaps. We even share samples and drum kits. If I wasn't inspired, I just get a new drum kit or something, and that would re-spark it. Getting new sounds gives you a mean as buzz.
P-Money: That's the same for me. What I like about your experience and generation is the sharing of information. In my era, maybe it wasn't that people didn't want to share, it was just that producers were so few and far between. I didn't know anyone else who made beats until 1999 or 2000, and I was already on by then. I was working with Che-fu, but I didn't really know anyone else making beats. I met DLT at a certain point, and he showed me a few things, but it turned out his approach was of a different generation again. He would go to the studio and direct the engineer on how to make the music.
Here's a question Montell, do you feel like you got your first real validation as an artist on the internet?
Montell2099: Yeah, for sure. It was on Soundcloud. The first big one was getting reposted by Sango. I used to think 500 plays on Soundcloud was crazy when I started. After I got the repost, it went crazy. I wasn't even thinking about the numbers though; the buzz was that Sango had reposted my song. The co-sign.
P-Money: The co-sign was important to me as well, and it was done locally. I had to get alongside or get to know the people I saw doing this locally. DLT was the main guy, so I'd take him my cassette tape of beats and ideas and try to get him to listen to it. I gave him a tape, saw him a month later, and he hadn't listened to it. So gave him another one and another one. The next time I saw him, he said, "I listened to your tape. You've got some cool beats." That shit made my whole life.
Montell2099: Straight up.
P-Money: The fact he had even listened to it. There was no way for me to talk to, or reach a lot of the people I respected. Now, have the opportunity and the potential to reach them. It's still a thrill. When I did my last album, DJ Premier played one of the songs on his radio show on Shade45, and it was still a thrill, cause I grew up listening to him.
Could you guys compare your first experiences travelling to the US to do music?
Montell2099: My first trip there was in 2016. I went with Red Bull for 30 Days In LA. That was also when I recorded the collaboration with 21 Savage. Doing that collab on my first trip to the US was crazy. I always tell my mates that they don't know what I went through. I was buzzing out the whole time. I didn't really get to take everything in properly that trip. I met a bunch of famous people in one week. Moving to Auckland from Katikati had been a big adjustment for me, so going over to the US was something else. We went to New York as well. It was cool. It just all happened so fast.
P-Money: My first trip to the US was in 1999. I would have been around the same age as you were Montell. I went to LA and New York. I got there through a DJ competition. I got flown out. DJ Sirvere was my minder, and I think MC Slave [Logg Cabin] might have been there as well. I was buzzing out man. Hearing West Coast gangster rap booming out of people's cars in LA, and it all making sense. The DJ battle was cool, and then we went to New York. I guess it was kinda similar to your trip. There was no Youtube or Spotify at the time, so we went record shopping. We'd go to stores and buy as many records as we could carry. New York was a real culture shock for me. It was such a big, built up city, and I felt really out of place. I'd wanted to go there my whole life, but I was so overwhelmed.
Montell2099: That's the word ay, overwhelmed.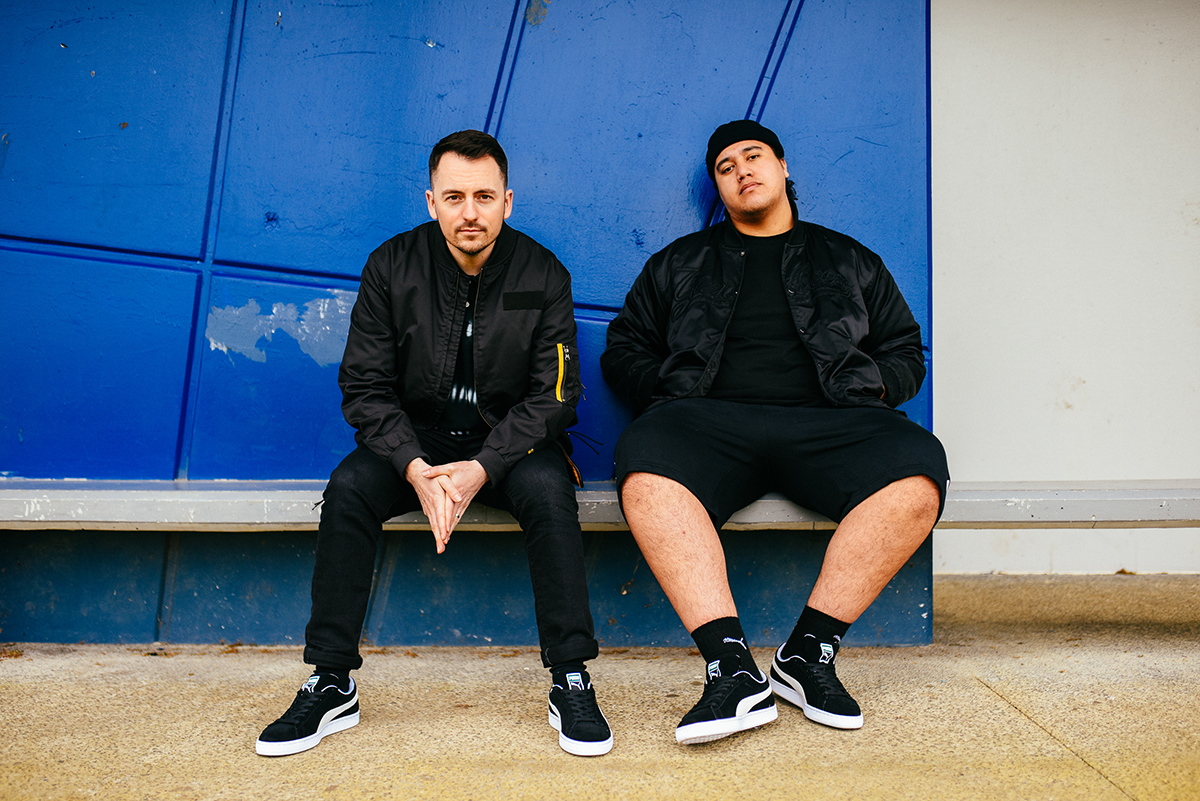 Pete, when you look at what Montell's generation is doing, what are your thoughts about what they're going to be able to do as we move forward?
P-Money: I think the international reach they have is amazing. It's all happening online with everyone from every part of the world. It's like you're all in the same place making music at the same time and sharing it with each other. That's a huge difference to twenty years ago. We were very geographically isolated. We were making music in New Zealand for other New Zealanders and hoping that one day we could travel and link with some of our inspirations. I never saw myself as on the same playing field as the American or UK artists I was listening to because they were so distant. I thought they must have different equipment and different knowledge.
Now I feel like everyone is on the same page, and has access to the same equipment, same samples, same ideas; all at the same time. That makes me excited about the potential for yourself and others like you to make music that actually resonates globally in a really significant way, and just break down those barriers between different countries and different cultures. It's a really amazing opportunity you have to connect with the rest of the world in a way that has never been possible before.
Article by Dan Woolston
Images by Andre Kong
Styling by Imogen Wilson
Originally published by sniffers.co.nz